Commuter Services
Daily Parking
Rates
All Day (Monday - Friday)
Per Hour (Monday - Friday)
Evening: 9:00 PM - 5:00 AM (Monday - Friday)
Weekend (Saturday & Sunday)
Complimentary weekend parking in Select Areas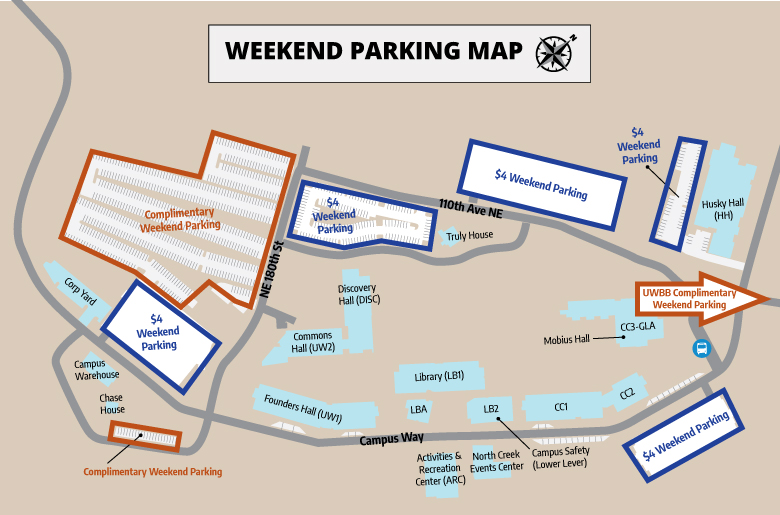 Pay by Phone
You can now pay for parking in most Bothell Campus parking areas with a few taps on your phone. When you're ready to park, select your parking location and the amount of time you want to park.
You do not need to display a receipt on your vehicle or use a pay station if you pay for parking with the PayByPhone app. Parking permissions are validated using your vehicle's license plate. All parking rates and policies remain the same, regardless of how you pay for parking. Refunds for daily and hourly parking are not available.
Get Started
To register, download the PayByPhone app and enter your license plate and payment information. You can also use an existing account (for example, if you've already been using the app to pay for on street parking).
Where to Park
You may park in any general parking space on the Bothell campus. The app may be used to pay for parking in a disability parking space. Of course, a valid disability parking placard (Bothell campus or state-issued) must be displayed at all times when parked in a disability parking space.
Currently Active Lots
All main campus lots, Husky Hall, and UW Beardslee Building (enter area code 62000). Only park in "campus permit" designated spaces.
UW Beardslee Crossing (enter area code 62001). Be sure to only park in UWB designated spaces.
Campus Way (enter area code 62002)
Parking Pay Stations
Pay stations are located at the stairwells on street level and near entrances to the surface parking lots. Campus pay stations accept Discover, Visa, MasterCard, and all denominations of cash and coins. Pay Stations do not give change back.
Quarterly Parking
Purchase Quarterly, Two Day, or Three Day Permits
Parking permits can be purchased online only. To get started, you will need to have a UW NetID. Please note that it takes 48 hours after receiving your NetID for the permit system to recognize your credentials.
Your license plate is your virtual parking permit
No physical permit will need to be picked up or mailed to you
Register up to four of your vehicles
In-and-out privileges
Parking permit and ORCA (transit pass) refunds follow our tuition 100% and 50% refund deadline policy
Rates
Quarterly (valid 7 days a week)
Motorcycle (valid 7 days a week)
Carpool (valid 7 days a week with approval)
ORCA Pass and Transit
The ORCA U-Pass
An individual U-Pass is $127 per quarter. It allows unlimited travel for students, faculty, and staff on King County Metro, Community Transit, Sound Transit, Kitsap Transit, Everett Transit, Pierce Transit, the Sounder Commuter train, and Light Rail which currently operates between Seattle and Tukwila. Purchase details on are the Student Toolbox page.
Note: If you are 18 or younger, you may be eligible for ORCA's "Free Youth Fare" Program. To find out more about this program, please visit the ORCA Website.
Schedule
Monitors with schedules are available at the Library and near Stopwatch Espresso in the lower level of CC1
Most transit routes operate from 6:00 AM to 10:00 PM on weekdays
Ten transit routes serve the UW Bothell and Cascadia College campus making over 400 stops each weekday
King County Metro Transit
Routes
Route 230 Bothell, Woodinville, Brickyard, Juanita, Kirkland
Route 239 UW Bothell/Cascadia - Kirkland via Totem Lake
Route 372 Woodinville Park & Ride - University District
Contact
Phone: 206.553.3000 or 1.800.542.7876
TTY: 206.684.1739
King County Metro website
Community Transit
Routes
Route 105/106 UW Bothell/Cascadia - Mariner Park & Ride
Contact
Phone: 1.800.562.1375
TTY: 2425.778.2188
Community Transit website
Sound Transit
Routes
Route 522 Woodinville Park & Ride - Downtown Seattle Express
Route 535 Lynnwood Transit Center - Bellevue Transit Center Express
Contact
Phone: 1.888.889.6368
TTY: 1.888.713.6030
Sound Transit website
Planning
Please plan to get to campus well ahead of your class start time to allow time to find a space. Be sure to not park in faculty/staff only sections, carpool, or disability accessible spaces unless your permit authorizes you to do so. Parking rules are enforced 24/7.
Parking Citations
The Washington Administrative Code 478-117 and 132Z-116 authorizes Bothell Campus Commuter Services to enforce all parking and traffic regulations on campus.
Pay or Appeal Your Citation
Parking citations can be paid or appealed prior to the deadline written on the violation ticket. Submit an appeal or make payment online via the Bothell Campus Parking Portal.
If you wish to further contest your appeal decision, you have 21 days from your appeal decision date to request a review. Submit a written statement via email to uwbpark@uw.edu with the subject "Request Review of Appeal".
Failure to Pay Fines
Failure to pay fines may result in vehicle immobilization, vehicle impoundment, and/or suspension of campus parking privileges. Citations not paid or appealed within 21 days will be assessed a one-time late fee of $10.00. Further action regarding the citation after it has been sent to collections must be through the collections agency. For more information, visit Univeristy of Washington Bothell's Pay / Appeal Citations page.
Suspension of Parking Privileges
The Washington Administrative Code 478-117-310 and 132Z-116-310 authorizes Commuter Services to deny parking privileges on UW Bothell / Cascadia College property for individuals who do not pay their outstanding citations.
Parking a vehicle on campus while parking privileges are suspended will result in vehicle immobilization (boot/wheel lock) and/or vehicle impoundment, even if parked with an otherwise valid permit or payment. Immobilization or impoundment does not remove the obligation for payment of fines associated with parking violations.
Vehicle Immobilization / Wheel Lock
Any vehicle with an accumulation of four or more unpaid parking citations is subject to the placement of a vehicle boot. To have an immobilization device removed, outstanding citations must be paid in full.
Carpool Program
Cascadia students, faculty and staff are eligible to participate. Carpool priority parking is available at the North and South parking garages. Carpool groups must be traveling to campus a minimum of 2 days a week together and must have matching schedules of 2.5 hours to each other. The carpool permit is only valid for one vehicle parked on campus at a time. If a secondary vehicle from the group must park on the same day, that vehicle will need to make payment for parking through the pay station or pay-by-phone service.
Electrical Vehicle Charging Stations
Electric car charging stations are available in various campus locations. The North garage stations are on street level. South garage stations are on parking level three and four. West garage charging stations are on levels one, two, and three. The Discovery Hall parking area has chargers located near the Truly House. Vehicles must have a valid permit while parked or charging on campus.
Community Van Program
This is a rideshare program brought to you by King County and participating cities to provide community members with a new way to share the ride. UW Bothell is partnering with the Cities of Bothell and Woodinville to bring the Community Van Program to the Bothell Woodinville area.
Review the Trip Schedule to see a list of trips that are scheduled with the Bothell-Woodinville Community Van. If you'd like to share a ride for any of these trips contact the Bothell-Woodinville Community Transportation Coordinator via email at: commvan@uw.edu or call 425-420-6514.
Off-campus Parking
Students, faculty, and staff represent Cascadia College/UW Bothell. If parking off‐campus, we ask that you be courteous to and conscious of our community neighbors. This includes, but is not limited to, leaving room for residents to turn out of their driveways; not parking in front of fire hydrants or mailboxes, and taking all your trash with you. It is important that we are good neighbors. For complete rules and applicable statues, see Parking and Traffic Rules for Cascadia College of the Washington Administrative Code.
Motor Pool
Cascadia staff and faculty have access to two campus vans for field trips, events, and other college related needs. They can be used for quick trips and multi-day excursions. Each van can hold 7 passengers in addition to the driver and is equipped with a back-up camera.
Reservation Process
Fill out the reservation form, it will route through 25Live
Once the reservation is approved Facilities will reach out to hand off keys and a post-trip form
After the scheduled trip, fill out the provided form noting any vehicle concerns, maintenance issues, starting mileage, ending mileage, and fuel level
Return the keys and form to Facilities
For first time users: A valid driver's license and current vehicle insurance needs to be confirmed in order to drive the vehicles.
For students: Student workers are allowed to drive the vehicles. If they are under 21 years old they need to have two years of driving experience.
Van Contents
Each van contains:
First Aid Kit
Fire Extinguisher
Roadside Assistance Kit
Instructions for vehicle accidents and roadside assistance
Tire Chains
Jumper Cables
A Tarp