Commuter Services
Parking Options
Virtual Permits Quarterly and annual parking permits are for purchase online only. Don't go to Kodiak Corner or HR!

Two day, three day, and full week passes available
Register multiple cars
In-and-out privileges
To get started, you will need to have a UW NetID. Please note that it takes 48 hours after receiving your NetID for the permit system to recognize your credentials.
Pay by Plate day permits can be purchased at campus pay stations and with PayByPhone.
Plan ahead. Please plan to get to campus well ahead of your class start time to allow time to find a space. Please do not park in reserved, carpool, or disability accessible spaces unless your permit authorizes you to do so. Parking rules are enforced 24/7.
Parking is always a bit of a challenge the first few weeks of the quarter. We've made some changes to help improve the situation.
Buses and ORCA Passes
Ten transit routes serve the UW Bothell and Cascadia College campus making over 400 stops each week day. Monitors with schedules are available at the Library and near Stopwatch Espresso in the lower level of CC1. Most transit routes operate from 6 a.m. to 10 p.m. on weekdays.
King County Metro Transit
Route 238 UW Bothell/Cascadia - Kirkland via Totem Lake
Route 312 UW Bothell/Cascadia - Downtown Seattle
Route 931 UW Bothell/Cascadia - Redmond via Woodinville
Route 372 Woodinville Park & Ride - University District
Phone: 206.553.3000 or 1.800.542.7876
TTY: 206.684.1739
Website: http://metro.kingcounty.gov/
Community Transit
Route 105/106 UW Bothell/Cascadia - Mariner Park & Ride
Phone: 1.800.562.1375
TTY: 2425.778.2188
Website: http://www.commtrans.org
Sound Transit
Route 522 Woodinville Park & Ride - Downtown Seattle Express
Route 535 Lynnwood Transit Center - Bellevue Transit Center Express
Phone: 1.888.889.6368
TTY: 1.888.713.6030
Website: http://www.soundtransit.org/
The ORCA U-Pass
An individual U-Pass costs $127 per quarter. It allows unlimited travel for students, faculty, and staff on King County Metro, Community Transit, Sound Transit, Kitsap Transit, Everett Transit, Pierce Transit, the Sounder Commuter train, and Light Rail which currently operates between Seattle and Tukwila.
To purchase a new ORCA card, please send your signed agreement form to ARFinance@Cascadia.edu. Next you will pay for the ORCA card and it will be mailed to you.
To renew a Cascadia ORCA card, please send a front and back photo of your ORCA Card to ARFinance@Cascadia.edu. Next you will pay for the ORCA card and then your current card will be reactivated.
If you need to arrange for campus pick up or have any questions, please email ARFinance@Cascadia.edu.
ORCA refunds follow our tuition 100% and 50% refund deadline policy.
---
Campus Parking
There are many parking locations on campus, including spaces and services for people with disabilities. Cascadia students, employees, and visitors may park in ANY general parking space on campus.
Pay by plate options include daily, quarterly or annual permits.
All parking information is available online.
---
Valet Assist
The Bothell campus experiences parking capacity issues during peak traffic times. In an effort to alleviate these issues, commuter services will test an "assisted valet parking" system. This test will utilize the services of Prime Parking systems, an experienced contracted valet company, to park more cars in a selected surface lot on the southwest side of campus. If the test goes well, assisted parking will resume in autumn of 2018.
What is Valet Assisted parking?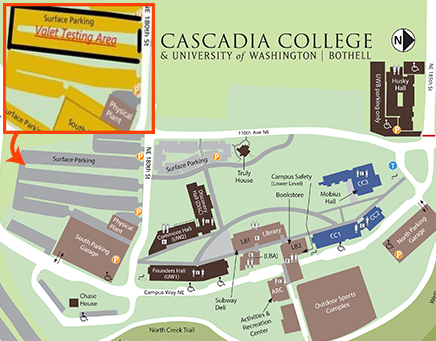 Assisted parking is a complimentary program that takes advantage of aisle space within designated parking areas to double-park vehicles without disrupting traffic circulation. Drivers may continue to self-park in an available parking space where their permit is valid (just as they normally would) but if these parking spaces all become full, attendants will be available to direct drivers to safely park on one side of a drive aisle (double-park). An annual, quarterly, event, or daily permit is required to park in regular and assisted parking areas on campus.
Location of Valet Parking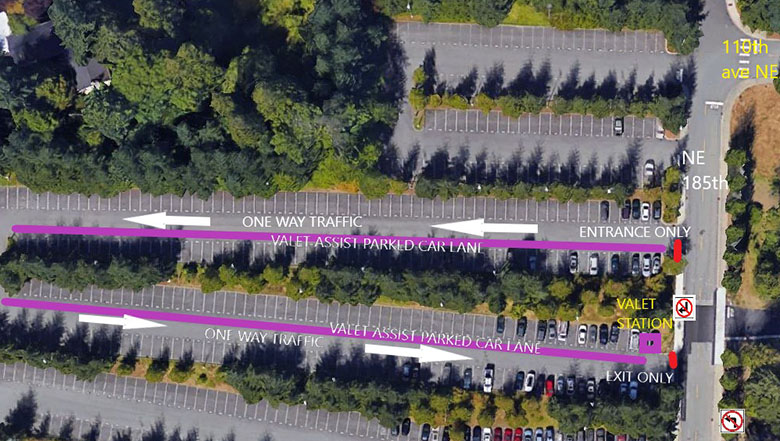 ---
How do I use it?
Parking Your Car:
Signs will be placed in visible locations at the entrance of designated areas in the upper southwest lot. For lot locations, please visit the commuter services website.
When you enter an assisted parking area, please follow the signs and obey the posted speed limit.
Directional signs will flow traffic in a one way pattern within the designated lot.
An attendant will direct you to park in a parking lot drive aisle. When instructed, stop your car and set the parking brake.
The attendant will take your car keys and affix a numbered inventory control tag and conduct a damage check on your vehicle, and give you a corresponding claim check. The claim check must be presented to an attendant to retrieve your car keys.
If you are directed to park in a drive aisle and you need to purchase a daily permit, enter your license plate number at the pay station instead of the stall number.
If you need to pay for daily parking, please do so at a pay station. It is a pay-by-plate system.
Prime Parking recommends giving the valet car key, which does not open your glove box or trunk.
Before leaving your car, make sure to roll up all the windows, lock the doors and note the location where you are parked.
Never leave valuables in your car.
Retrieving Your Car:
Return to the Valet Assist Parking tent where you originally parked.
Give the attendant your claim check.
The attendant will give you your car keys, and you may take your vehicle. Attendants will be available if you need assistance maneuvering out of the space.
Vehicles in drive aisles will be placed in parking spaces as they become available after 3:30pm. You are encouraged to retrieve keys before 6:00pm.
Keys not picked up by 6:00pm will be at campus safety which is across from the ARC and is open 24 hours. Once you present the claim check you will receive your keys and the location of your car. The physical address for campus safety is 18325 Campus Way NE.


My Car is Blocked!
Go to the vehicle blocking your car and note the ticket number on the dash/windshield.
Tell an available attendant the ticket number, they will need this to locate the keys to the car blocking yours.
The attendant will move the car and help you exit the parking space.


Valet Assist Parking FAQ's
Q: Who manages the campus assisted valet parking system?
A: Commuter services has contracted with a professional valet company called Prime Parking Systems to provide professional assisted parking services. Attendants provided by Prime Parking do not accept tips or collect fees of any kind.
Q: What are the hours of operation?
A: Attendants will be available Monday – Thursday, 9:00 a.m. - 6:00 p.m.
Q: What if I leave my keys with valet and plan on leaving after 6:00pm?
A: Keys not retrieved by 6pm will be delivered to the campus safety department, across the street from the ARC. Campus Safety is open 24 hours.
Q: Am I required to leave my keys with the valet assist parking attendant?
A: If you self-park in a regular space, then you don't need to leave your keys with an attendant. If the lot is full, you always have the option to leave the area and look for parking elsewhere. However, if you are parked in a drive lane, you must lock your car and provide the key to the attendant as they may need to move your car to allow another person that you are blocking to leave.
Q: Do the attendants sell parking permits?
A: No, the attendants are on site to manage vehicle parking and maximize parking lot efficiency. If you wish to buy a quarterly or annual parking permit, they are only sold online. For one-day parking, visit a pay station near your parking lot. Attendants do not accept tips or collect fees of any kind.
Q: What happens if an attendant damages my car?
A: The parking contractor, Prime Parking, has an excellent reputation for carefully handling vehicles. If you believe that your vehicle was damaged by a valet parking attendant, report the damage immediately to the attendant on duty. The onsite manager will promptly assist you and provide instructions on filing a damage claim with their company.
Q: Can I use a car cover if I use valet assisted parking?
A: Valet assist parking requires parking attendants to promptly move cars, and a car cover may delay this process. If you want to use a car cover, you should self-park in a marked parking space instead of using the valet assist parking services.
Q: How many additional spaces will be created as a result of valet assist parking?
A: For every 2.5 regular stalls, one car may park with the valet assist system. Accounting for the 126 stall section, this will increase the number of parking spots by roughly 60 spaces.
---
E-Scooter, Bikes and Boards on Campus
E-Scooter Pilot:
The City of Bothell is testing a battery-powered scooter-sharing pilot with Lime. This means e-scooters are expected to show up on campus. As with Lime bicycle sharing, riders use a phone app to unlock the scooter.
Cascadia/UW Bothell riders are asked to observe the following rules:
Wear a helmet
Respect 7 mph speed limit on campus
Do not bring e-scooters into any campus buildings, garages, parking lots, or elevators
Do not charge scooters on campus
Park near bicycle racks
After the 90-day test the city, the campus, and other stakeholders will evaluate whether to continue the service.
Trails
Direct access between the Sammamish River Trail and the campus is available via the Burke-Gilman Trail (connecting the Sammamish River Trail, along SR 522, to the North Creek Trail, along North Creek east of I-405). The Sammamish River Trail provides regional connections for bicyclists and pedestrians. This trail extends west along Lake Washington through Kenmore, Lake Forest Park, and the University of Washington Seattle campus to Lake Union, and south along the Sammamish Slough to Redmond, Marymoor Park, and Lake Sammamish. For trail details and maps, visit King County recreation website.
Bikes
Bicycle racks are located at:
Campus Way NE and the north end of building CC2
Promenade at the north end of building CC2
West side of CC3.
Bike lockers may be rented through UWB Cashier's office in UW1 building. Visit UWB Bicycling and Pedestrian Access for more information.
Shower facilities are located on the lower level of CC1. Shower and lockers are located on the first floor of CC3.
---
Carpool
Electric car charging stations are available in the North and South garages. The North garage stations are on street level. South garage stations are on parking level three. Vehicles must have a valid permit. Quarterly and annual parking permits are only available online. Half-day and day permits should be purchased at pay stations near parking lot entrances/exits.
---
Electrical Vehicle Charging Stations
Cascadia students, faculty and staff are eligible to participate. Carpool priority parking is available at the North and South parking garages.
---
Zimride Ride Share Program
Bothell Campus Zimride is a fun and easy way to find friends, classmates and colleagues who are going the same way you are. Zimride makes it easy to share the seats in your car or catch a ride.
Split the costs by driving fellow Bothell campus community members. Don't have a car? Find a ride where you need to go. You save money, protect the environment and have more fun when you share the ride.
Membership is free and easy. All UW Bothell students, staff, and faculty are eligible to sign-up for the campus Zimride Rideshare Community with your Cascadia ID.
---
Community Van Program
This is a rideshare program brought to you by King County and participating cities to provide community members with a new way to share the ride. UW Bothell is partnering with the Cities of Bothell and Woodinville to bring the Community Van Program to the Bothell Woodinville area!
Review the Trip Schedule to see a list of trips that are scheduled with the Bothell-Woodinville Community Van. If you'd like to share a ride for any of these trips contact the Bothell-Woodinville Community Transportation Coordinator via email at: commvan@uw.edu or call 425-420-6514.