ctcLink Student Self-Service Portal
Cascadia College is now using a new system for student self-service, called ctcLink, which will vastly improve the way you do all your college business (review class schedules, register for classes, pay tuition, review financial aid, check academic progress, view unofficial transcripts, receive messages, and more). As part of this process, you will be assigned a new student ID and login passwords.
Access Your Account
Launch ctcLink in the Chrome browser.
Activate Your Account
Registering for Classes
Instructions on how to find your registration time, how to navigate the class schedule, and how to enroll in classes for summer and fall quarters.
Need to meet with an academic advisor to help with class selection? Email advising@cascadia.edu or attend an advising drop-in zoom hour. Complete list of hours and zoom IDs available at www.cascadia.edu/virtual.
Download the App
The ctcLink app is available on Apple or Android devices so you can login to the student self-service system on your mobile devices.
Student Homepage Tile Descriptions
There are several tiles on your student homepage, find detailed information about what you can access and what action you can take within each tile.
Screen Reader Mode
Currently the Enable Screen Reader Mode option at the ctcLink login page does not automatically activate throughout site. Until a permanent fix is in place, please manually adjust your individual preferences to enable the screen reader mode. Once you make the change, it will remain active until you decide to turn the feature off.
Support
For questions about your ctcLink student ID number or account access email ctcLinksupport@cascadia.edu

ctcLink Account Instructions
Activation
1. Launch ctcLink in the Chrome browser
Note: this is where you can enable the screen reader mode by clicking the checkbox.
2. Click on First Time User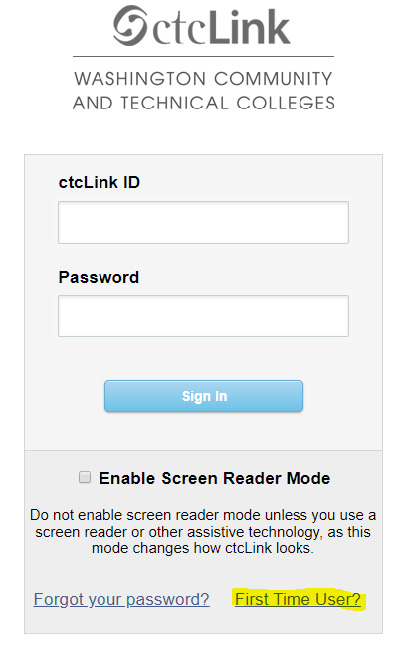 3. Enter your first and last name and date of birth
4. From the drop-down select *ctcLink ID (new) if you have a 201 number, or select *SID (old) if you have a 960 number. Enter your number and click Submit.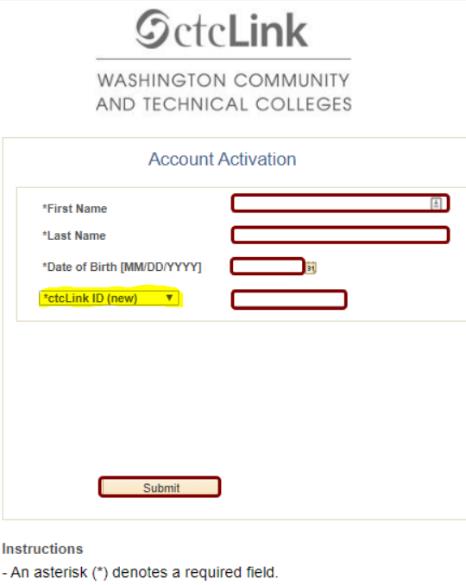 5. Choose three security questions and answers that you will use to recover your password.
Note: your answers are not case-sensitive. You may wish to take a photo of your questions and answers.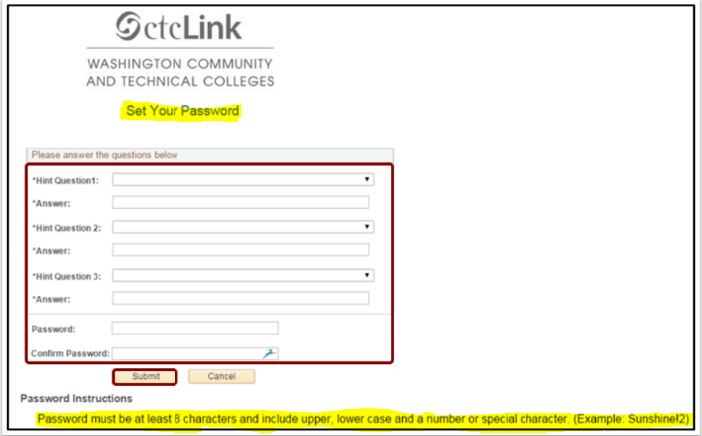 6.Choose and confirm your password. It must be at least 8 characters and include upper-case, lower-case, and a number or special character. Click Submit.
7. IMPORTANT: After you click submit, a pop-up window will appear that displays your new ctcLink ID number. It will not appear again. Write down your ctcLink ID at this time or take a photo.

8. Click OK and then Close.
9. CLOSE the entire browser window.
10. Open a NEW browser window. It is best to use Chrome or Firefox.
11. Launch ctcLink again.
12. Enter your NEW ctcLink ID and password.
13. Explore your NEW self-service portal.
Top
Register for Classes
1. From the ctcLink Student Homepage click on the Manage Classes tile.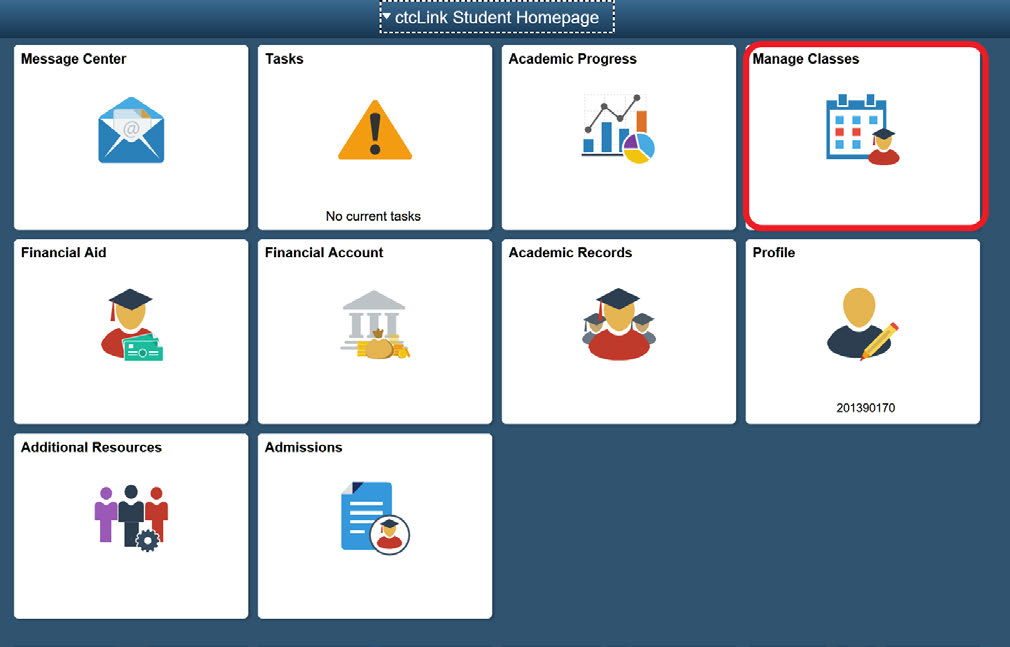 2. Click on the Enrollment Dates to see when your appointment time begins to enroll in classes. Note: Registration times are available beginning June 1, 2020.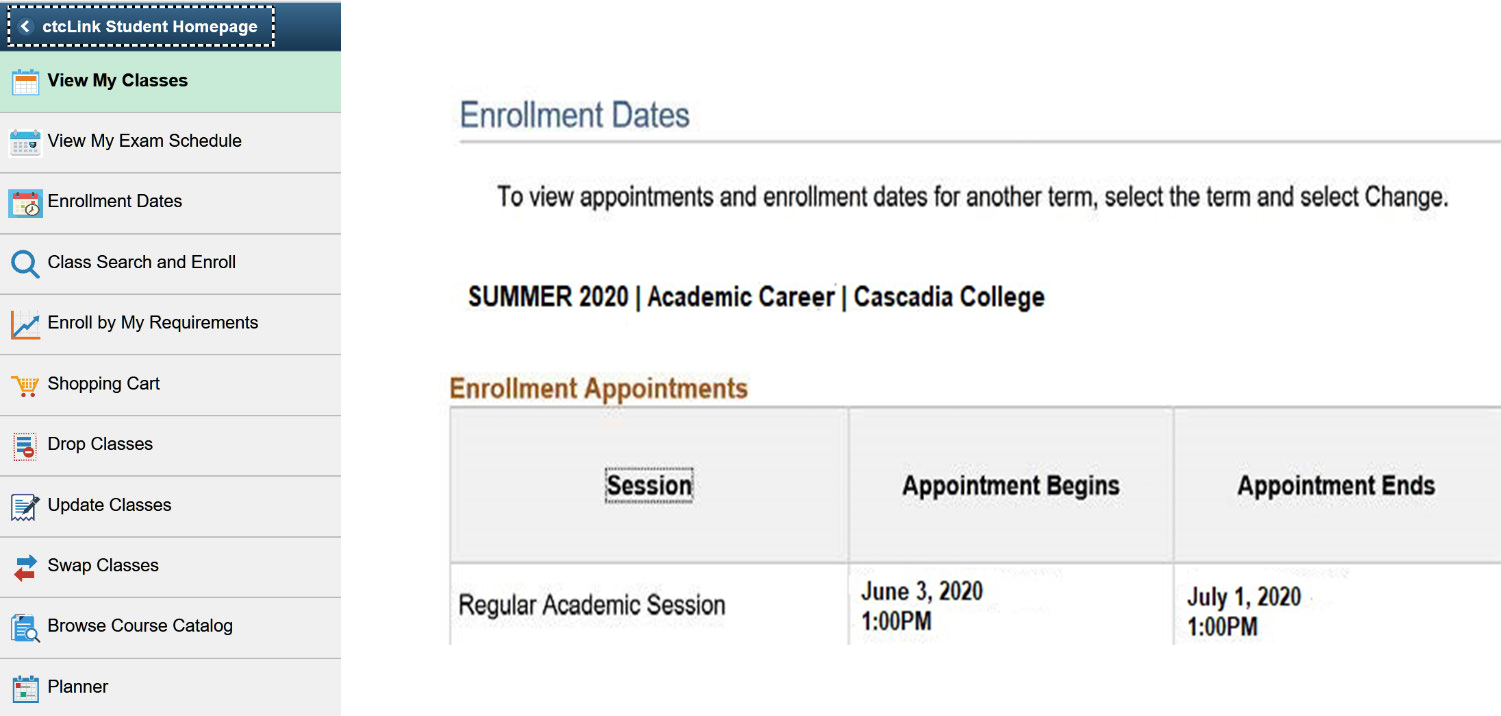 3. Click on Class Search and Enroll
You may see classes for more than one school in Washington State. Please be sure to look for classes at Cascadia College and the correct term (e.g. Summer 2020). Enter a term in the search bar to bring up a list of classes. This will also open a search where you have many different ways to narrow down the classes you want to look at. In Washington State we have common courses which are designated by adding the "&" sign to the end of the subject. This results in two different subjects in the list for some subjects, such and English and math. Be sure to include both versions in your search.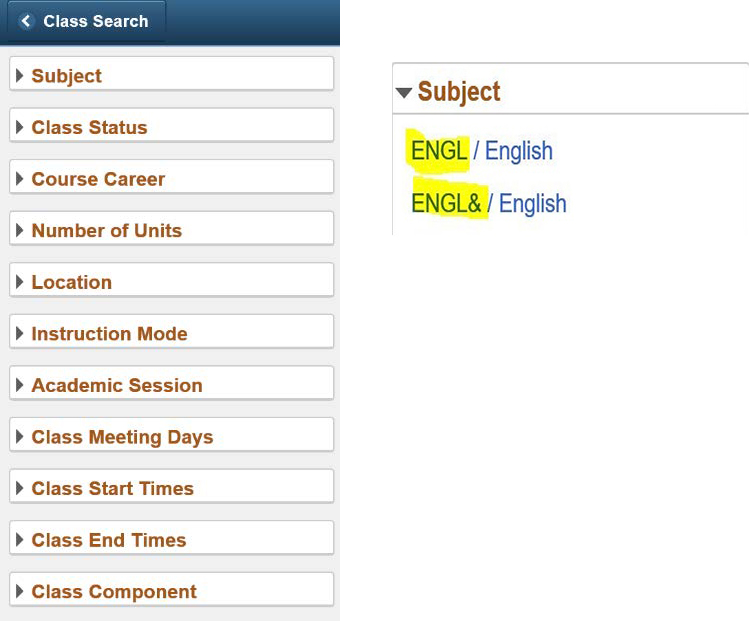 4. Click on View Classes
In the section "Class Notes" at the bottom, this is where you will see whether a class is synchronous (offered at specific days/ times) or asynchronous (no specific days and times scheduled for participation).



5. You will now be walked through the rest of the process. Note the next button top right.

6. If the class is full and you want to be on the waitlist change to yes. If you have a permission number enter it here. Then Accept.

7. You can enroll or add to your shopping cart.

8. Review your classes and click the "Submit" button.

9. You will now be able to view these classes by using View My Classes. Once tuition has been calculated by the college you can click on the Financial Account tile on your homepage to pay your tuition.


Top
Cascadia Student Homepage Tiles
Profile Tile
Personal Details – Review name and add preferred name.
Contact Details – Update email and phone numbers.
Addresses – Review, add and edit addresses.
Emergency Contacts – Add/edit emergency contact information.
Ethnicity – Review and update ethnicity and background information.
Privacy Restrictions – Review and update privacy restrictions, such as: names, personal data, phone numbers, addresses, email addresses, extracurricular activities, and photograph.



Tasks Tile
To Do Lists – Review and respond to To Do List items on your student account.
Holds – Review holds on your student account. These can be positive or punitive.


Message Center Tile
Message Center – Review and respond to messages sent to you by various departments at Cascadia.


Manage Classes Tile
View My Classes – View the classes you are enrolled in for the term/quarter.
View My Exam Schedule – View your final exam schedule for the term/quarter.
Enrollment Date – View your enrollment dates for terms in the academic year.
Class Search and Enroll – Search for classes by keywords and enroll in classes.
Enroll by My Requirements – Review your Academic Progress and enroll by classes that are not yet fulfilled (still needed for graduation).
Shopping Cart – Review and Enroll in classes from your Shopping Cart. You can also validate that the courses in your Shopping Cart are still open or what is needed for your program.
Drop, Update and Swap Classes – Ability to drop, update and swap classes based on the academic calendar.
Browse Course Catalog – Search for classes in the course catalog.
Planner – Review, add and edit your educational planner.


Financial Account Tile
Account Balance – Review your account balance.
Charges Due – Review details about charges that are due on your student account.
Payments – Make payments on your student account.
1098 T (Tax Information) – Review and authorize electronic delivery of your 1098-T Tax Information.
Payment Plans – Sign up for and make payments on a payment plan.


Financial Aid Tile
Aid Year Information – Review your awards for the given academic year.
Accept and Decline Awards – Ability to accept and decline awards.
Satisfactory Academic Progress (SAP) - Review your SAP status and review your Institutional SAP Policy.
Loan Counseling – Review and complete your Loan Counseling.


Academic Records
Course History – Review previous course history.
View Grades – view grades for the current term.
View Unofficial Transcripts – Review your unofficial transcript.
View Transfer Credit Report – View any transfer credits applied to your student record.
Evaluate Transfer Credit – Evaluate how transfer credits will be applied to a given program or institution.
View My Milestones – Review milestones placed on your student account.


Academic Progress
Academic Progress – Review the status of your academic progress as it applies to your program.
View What-If Reports – Run What-If reports for programs other than the program that you are currently perusing.
Advisors – View your assigned advisor(s) and their contact information.
View My Advising Notes – View and respond to notes sent by advisors.
Apply for Graduation – Cascadia not using this feature currently.
View Graduation Status – Cascadia not using this feature currently.
Top