Meet the Staff
Staff
Chari Davenport – Executive Director of Equity and Inclusion
Chari Davenport holds a Master of Science in Journalism and Technical Communication and a Bachelor of Arts in Speech Communication. Chari's background in equity and inclusion began in college, and over the years she has demonstrated her commitment to social justice both personally and professionally. "I trace my current commitment to, competence in, and validation of issues of equity to my youth." Throughout her journey she worked in Public Information for PBS, served as the Writing Coach for the Ronald McNair Scholars Program, and Public Relations Coordinator for the Jacob Lawrence Exhibit at the Denver Museum of Art before entering academia.
Beginning in 2003, Chari served as humanities faculty, earning several awards for teaching excellence and serving as advisor to the student newspaper prior to joining Cascadia's executive leadership team. Chari has shown her strong commitment to equity and inclusion through her many service opportunities at Cascadia. This service includes coordinating and facilitating the Foundations of E&I course, which reaches faculty and staff within the Cascadia community. The course covers the elements of equity and inclusion and lays the foundation for further learning.
Chari will represent Cascadia as a member of Eastside Leadership, a premier personal and professional community leadership development experience. As the Executive Director, she works with students, faculty, and staff, area school districts, and various community partners to support Cascadia's mission to equity and inclusion. Chari is the Chair of the E&I Council and serves on several committees that support the goals and mission of Cascadia College.
Hao Cheng – Cascadia Scholars Program Lead
Hao was born and raised in China, and he moved to Seattle in 2011 to fulfill his higher education dream as a first-generation, low-income, and marginalized student. He started his career working in higher education in 2013 as a TRIO peer tutor/mentor in college. Hao received his BA in Communication from the University of Washington in 2020. After earning his BA, he served as an AmeriCorps member helping underrepresented students navigate the college process, find resources, and attain their educational and career goals at College Possible, a non-profit educational organization. Hao has been with Cascadia College since August of 2021. In his role as the Cascadia Scholars program lead, he hopes to implement the program for ethnically and racially underrepresented students and help them connect educational goals to their academic and career journeys.
Kim Jones – Diversity and Equity Center Program Lead
Kim received her Bachelor's degree in Race and Culture Studies as well as a Bachelor's degree in Anthropology with minors in Chicano Studies, Native American Studies, and Africana Studies from Eastern Washington University. She graduated from University of Washington - Bothell in 2019 with a Masters in Cultural Studies. Kim hails from Tennessee but has now made Washington her home. Kim has over six years of experience working in the Student Funded Programs Office at Spokane Falls Community College as a Program Coordinator and three years in the Cascadia Student Life Office as the Kodiak Cave Program Coordinator and now joins the Office of E&I as the Program Lead for the Diversity and Equity Center.
Alia Mahdi – Executive Assistant
Alia Mahdi graduated from the University of Washington, Bothell with a Master of Arts in Cultural Studies in 2021. She also completed a graduate degree in Folklore Studies from the University of Khartoum 2013. She was an educator for six years; a teacher and a librarian and taught French and Social Studies both in Sudan and in the US.
"My studies and my work experience have been centered around communicating and interacting with people from different backgrounds and different age groups. This led to my interest in the Equity and Inclusion field. I have always questioned the status quo and tried to find answers and solutions. I am very happy to join the Equity and Inclusion team and I am confident that it will be a great opportunity for growth and learning." – Alia Mahdi
Interns
Qinyu (Frank) Jiang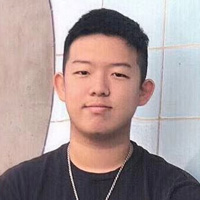 Qinyu (Frank) is a senior at the University of Washington studying Education, Communities & Organizations. He is originally from China, and he came to America in 2015. He plans to obtain a master's degree in Education Policy and work with higher education institutions to create an inclusive learning environment in the future. He values honesty, diversity, and learning. He is passionate about multiculturalism and social justice, and he is eager to bring equitable education opportunities to individuals. He looks forward to working with the Equity and Inclusion Office and bringing positive impacts to students at Cascadia College.
Maia Wood
Maia Wood (born Yen Thi Nguyen) is an incoming senior at the University of Washington-Bothell studying Community Psychology. She was born in Vung Tau, Vietnam, and grew up on Vashon Island in the Seattle area. As an adoptee from Vietnam, she was drawn to being involved in working with various people from different backgrounds. She looks forward to working with the Office of Equity and Inclusion at Cascadia College and making new relationships, learning more about DEI, and supporting the college community.