Cascadia's Sustainable Campus
Cascadia College was rated #1 in the nation agagin in 2023 (six years running) for our sustainable campus grounds by the Association for the Advancement of Sustainability in Higher Education!
Our Cornucopia Food Forest was recognized with a national AASHE Campus Sustainability Achievement Award in 2021!
Cascadia is a member of the Association for the Advancement of Sustainability in Higher Education (AASHE)
Sustainable Development Solutions Network (SDSN) member
Certified Salmon Safe Campus
Pesticide free!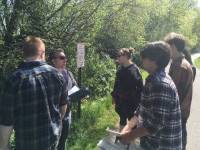 Sustainability Activities on Campus
Check out the campus blog Integrate It! and the Campus Calendar for the latest information about sustainability activities on campus and in our community. Join our bi-weekly Sustainability Opportunities e-newsletter for articles and updates!
---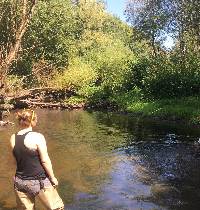 Wetlands
We protect and continue to restore a 58-acre wetland that is one of the biggest floodplain restoration projects completed in the Pacific Northwest in conjunction with UW Bothell. Cascadia classes use the wetland as a living laboratory to study water quality, botany, ecology and wildlife biology. Cascadia students have done wetland stormwater sampling!
Would you like to explore the wetlands?
Interesting in doing research in the wetland? Please request a permit.
---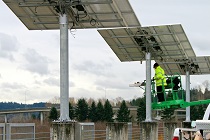 Green Buildings
Our Global Learning and the Arts building (CC3) achieved Leadership in Energy and Environmental Design (LEED) Platinum standard for environmental sustainability and we produce clean, renewable energy via solar panels located on our parking garages and rooftops. CC3 was the 2nd building in the state to achieve LEED Platinum in 2012!
---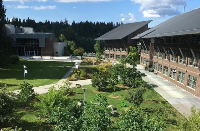 Campus Grounds
Our campus, shared with University of Washington, Bothell, is Certified Salmon Safe and we produce herbs, flowers, fruits and vegetables in our campus Food Forest and Campus Farm using organic practices. We also provide habitat for native pollinators. The campus is also Green Grounds Platinum Certified, one of the the first three campuses in the nation to achieve this!
See more images of our campus!
---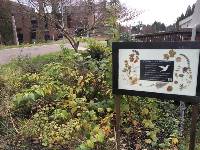 Stormwater Management
Our Campus is a secondary permitee under the Western Washington Phase II Municipal Stormwater Plan. We manage stormwater with rain gardens, green stormwater infrastructure, signage and education, and working with
our 58-acre restored wetland management! You can see many of our projects by visiting the campus, or photos on our social media!
Cascadia College 2020 Annual Stormwater Permit Report, through the WA Department of Ecology
Link to our Campus Stormwater Management Plan.